Naturally you want to get your family and friends the best christmas gifts which are also practical. You want to make sure they are useful and aren't just going to collect dust in the closet. This is especially important when it comes to your elderly parents and grandparents since they might not be as excited about any gift you give them as a kid would be. Here are some of the best christmas gifts for elderly family members this christmas.
A Gran Smile Subscription Box
One thing you can do is to subscribe them to a monthly subscription box. This will not only make them happy, but it will also give them something to look forward to every month. You might think that the senior citizens in your life don't need any gifts since they already have everything, but you should know that every person needs love and attention.
A subscription box of surprises is a great christmas gift for old people who don't get out much. It's a surprise package full of fun and interesting stuff delivered right to their doorstep every month or so. The best part is, they can enjoy it without leaving their home which lessens the chances of something going wrong when they go out somewhere.


Large digital clock/calendar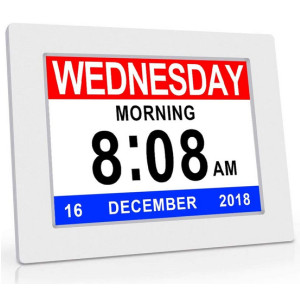 Your parents or grandparents will surely love this large text digital clock because it's the perfect gift for them. It's easy to set up and only needs a 9V battery which is included with the package. The screen is really clear and it has a backlight feature that allows you to read the clock even in the middle of the night. This is also a great gift idea for those who have poor eyesight or just want something simple yet elegant.
Designed by Unforgettable, the world leading memory loss product specialists and winner of Outstanding Dementia Care Innovation by the National Dementia Care Awards. This clock has been designed to make life easier for people living with time disorientation, dementia, memory loss and visual impairment.
Eh-Co Chilli jams, marmalades and chutney

This is a great Christmas gift for loved ones. It tastes fantastic with cheese and crackers. You can also use this as a starter spread on a sandwich or use it as a main ingredient in your main meal. A sweet apple chilli chutney is one of the most delicious things you will ever eat.
A delightfully chunky chutney, this decades old family recipe brings out the fruitiness of both the chillies and the apples. Think of this lively, well-balanced spicy chutney as a grown up sweet apple chutney.
Like all our chutneys and jams it comes with no artificial flavours, preservatives or additives. You'll be hard pressed to find a more upbeat spicy chutney anywhere.

Buy Now
Elderly friendly mobile phone

This is a mobile phone which is designed specifically for senior citizens to use. It has a big screen, big buttons, amplified volume and big fonts to make it really easy to use. It is also really simple to use, has a built in torch, radio and camera. It is 3G and has an easy lock function so you cannot accidently ring someone. It even has an SOS button which just takes one press to alert someone that help is needed.
Nowadays, phones are not only for socializing or business purposes. They can also serve as personal assistants for both young and old alike. A smartphone is a useful tool for seniors who want to socialize with their family members or friends who live in another part of the country.